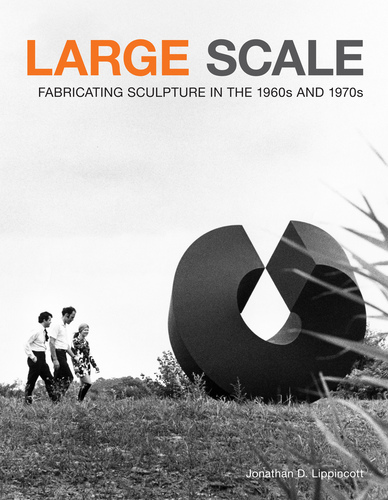 "Ever wonder how the enormous outdoor sculptures that populate the urban landscape came into being? Jonathan D. Lippincott's
Large Scale
tells the story . . . a lively history."
—The Wall Street Journal
"What is priceless about this book are its photographs, in which workers are diminished in scale by the gigantesque sculptures they are busy fabricating in the dusky light of the Lippincott atelier. They dramatize an aspect of artistic production rarely discussed as such, which gives the book its art historical value."
—ARTHUR C. DANTO, philosopher and art critic, author of
Beyond the Brillo Box
"A gold mine of behind-the-scenes photos showing artists making larger-than-life sculptures—a feat possible for the first time in 1966 when Lippincott, Inc. made industrial-scale fabrication accessible to the art world."
—Ralph Lauren's rugby.com
"This book is both an essential historical document and an enchanting souvenir album that takes us back to the quintessentially 1960s moment when America's most interesting sculptors went audaciously large-scale. Much of their work was created at a little-known former factory in North Haven, Connecticut, that became a major fabricator thanks to Don Lippincott—this is his story."
—DEBORAH SOLOMON, author of
American Mirror: The Life and Art of Norman Rockwell
and
Utopia Parkway: The Life and Work of Joseph Cornell
"A rare opportunity to witness the creative process up-close . . .
Large Scale
is a lovingly designed homage to mastering the communicative and technical processes of fabricating large-scale sculpture . . . an insightful record of a bygone era."
—Berkshire Fine Arts
"
Large Scale
still aptly portrays a lost corner of an era when flower power met industry, when old ways were cast off, businessmen wore purple jeans, and possibilities seemed joyful and limitless."
—Public Art Review
"One comes away from the book with the idea that the environment at Lippincott, Inc. was an important factor in the success of many artists in one of the most active periods of public sculpture in art history. Seeing the images of these large scale works of art as they were made increases the sense of appreciation for them."
—PrairieMod.com